A children's birthday party in Martinez ended badly Saturday when a father found an adult in a bedroom with his 13-year-old daughter, authorities said.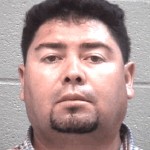 The girl was in bed and adults were up late for an after-party outside the home on the 3900 block of Columbia Road.
Ramas Vargas, 45, went inside the home to use the bathroom around 2 a.m. Saturday and didn't come out right away. The girl's father went to check on his daughter and use the bathroom, and that's when he heard the victim scream for help, according to a sheriff's report.
"He turned on the lights and saw Mr. Ramas Vargas hiding next to the bed," a sheriff's report says.
The victim said Vargas had touched her private area.  The girl's father grabbed his gun and began yelling for the man to leave. Vargas left in the father's vehicle but returned to the home later.
He told deputies that he couldn't remember what happened. "In his mind, he possibly thought about toughing (the girl)," a report says.
Vargas was charged with sexual battery against a child under 16. He remained in jail on Monday morning under a $7,600 secured bond.
According to authorities, a hold has been placed on Vargas by the U.S. Immigration and Customs Enforcement (ICE) since he is in the country illegally.