A 17 year old is the first person charged in connection with Friday night's shootings at Carie J. Mays Park in Augusta that killed one person and injured two others.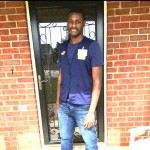 Antonio "Tony" Sheppard, 17 (shown above), was charged Saturday in the shootings at the recreation center at 1020 10th Avenue that killed 20-year-old TrayChaurde Harris (pictured at right) and left two others with injuries that were not life-threatening.
Sheppard was charged with murder, two counts of aggravated assault, weapon possession and possession of a firearm by someone under 18.
"Investigators are still following leads into the identities of the other suspects involved in this incident," sheriff's Sgt. Glen Rahn said in a press release.
A motive was not released.
Eboni Lunsford wrote this Saturday on her Facebook page about Harris, her brother: "My heart is torn to find out my brother/ Best friend / twin left me… we just talked earlier today… we had a lot planned and now I have to live it up for us both. I love you Tray Harris. Watch over me brother."
For more crime news, pick up a copy of The Jail Report in local convenience stores.