An Augusta felon was recently arrested for peeping into the window of a young woman who lived next door to him on Damascus Road, according to a sheriff's report.
The woman was so frightened, she fired a gun into the air to scare him off!
Robert Toney, 62, is accused of peeping Tom and violating parole by committing the act. He was just released from state prison in May for peeping at two women at Magnolia Park Apartments, authorities said.
State prison records show he served 11 days (yes, DAYS!) of a two-year prison sentence. However, the records don't say if he received credit for time served awaiting trial in the county jail.
Toney clearly has a problem. In May 2019, he was caught on video peeping into the windows of two women. He was arrested outside the Magnolia Park apartment complex on Vandivere Road after two residents saw him looking into windows and one recorded his behavior, according to media accounts.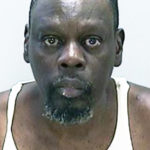 Earlier this year, he pleaded guilty in Richmond County Superior Court to two counts of peeping Tom. A judge sentenced him to two years in prison followed by three years on probation. Prison records show he began his sentence on May 18 and received parole on May 29, less than two weeks later.
He moved to a home on Damascus Road. On Sept. 24, a young woman living next door called the cops and said she observed Toney outside her bedroom looking in. The 28-year-old woman ran to her car to leave but saw the man still there.
"She observed Toney laying in the grass beneath her bedroom window," a sheriff's report says. "She exited her vehicle with her firearm and discharged one round in the air in an attempt to scare off Toney."
The suspect fled, leaping a fence that leads to her back yard and then jumping over a fence to his own backyard. Confronted by deputies at his home, Toney confessed to the crime, the report says.
Toney had previous convictions for aggravated assault and spent 10 years in prison from 1999-2009. In addition, a 1992 peeping Tom charge was not prosecuted. Toney once told a judge that he takes medication for mental health.
The suspect is being held in the Richmond County Detention Center on one count of Peeping Tom and a parole violation.