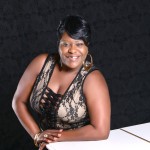 The mother of accused cop-killer Na'eem Caldwell claims her son shot RCSO Cpl. Gregory Cooke in defense of his father.
In fact, Regina Osborne (pictured) blames the officer's death on his own over-reaction to being called "soldier" by her estranged husband. She made the claims in an exclusive interview Friday night with The Jail Report.
Ms. Osborne said she wanted the truth to come out about the officer's death. She especially wants to make it clear she was not having sex with the off-duty officer on Thursday.
Here is the story she tells: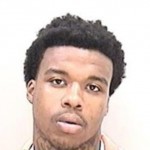 Na'eem Caldwell, her 17-year-old son, got beat up early Tuesday and Cpl. Cooke was the one who talked with her about the possibly gang-related incident. It was the first time Ms. Osborne met the officer, and he gave her his card and his personal cell phone number. The officer wanted to pursue something with Ms. Osborne and help her son find the attackers.
On Thursday, he came to her house on Lennox Drive while off duty to take her to nearby BBQ place. By then she knew he was married, but he said the marriage was falling apart and she accepted that.
As they were sitting inside Cooke's truck preparing to go, a vehicle pulled up with her estranged husband Stevie Caldwell, her son Naeem and her nephew Donelle Osborne.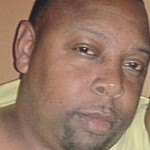 Stevie Caldwell got into an argument with Cooke because Caldwell called him "soldier."
"You didn't have a problem with me calling you soldier, did you?" Stevie Caldwell said.
Cooke replied, "I do have a problem because I am not a soldier. You obviously don't know who the hell I am."
"I don't care who you are. I was just trying to make sure you are all right," Stevie Caldwell responded.
At this point, Cooke (pictured at right) was standing near Caldwell's car.
"Mr. Cooke jumped out of his truck with his gun in his hand, stood next to Mr. Caldwell's car, saying he had a problem," Ms. Osborne said. "Mr. Cooke had the gun out visible. Everyone saw it."
Ms. Osborne says she was sitting in Mr. Cooke's truck, looking down at her cell phone, thinking it's wasn't a big deal.
"Come on, let's go ahead and go," she told Cooke.
Suddenly, she heard a gunshot. She thought Cooke had shot himself in the leg. Then she heard more.
"Pop, pop, pop, pop."
Cooke went around his vehicle and fell, and he was on the ground, Ms. Osborne said.
"I was trying to help Mr. Cooke out and called 911, and told them it was a cop. He had been shot."
She said a dispatcher talked her through it. She put pressure on his arm, but there was blood gushing from his neck. He looked like he was going through a seizure. She put her finger in his mouth to make sure he didn't swallow his tongue.
"I was trying to keep him awake. He acted like he was about to go to sleep. He sounded like he was snoring," Ms. Osborne said.
"Stay with me," she told him. "Wake up. Wake up."
She says he was still alive when the ambulance arrived. Authorities say he died at the hospital.
But she feels like the sheriff's office is coming after her son with the murder charge because Cooke was a deputy.
"I feel as if it is his fault because he shouldn't have got out of the car with a gun. He was the only one who had a gun out," she said. "He overreacted at Mr. Caldwell calling him a soldier."
Ms. Osborne said she learned that her son was the one who shot Cooke, in an apparent effort to protect his father.
"He was afraid Mr. Cooke was trying to kill his dad," Ms. Osborne said.
Na'eem Caldwell (left) and his cousin, Donelle Osborne (right), then fled the home, scared of what would happen.
Ms. Osborne had a lot more to say about her son, why he had a gun, and her sadness over Cpl. Cooke's death and all the arrests. The Jail Report will tell you more in the coming days.
Meanwhile, six people have been charged in Deputy Cooke's death, including Na'eem Caldwell and Donelle Osborne, who are charged with malice murder. Stevie Caldwell (bottom right photo) is charged with tampering with evidence and possession of a firearm by a convicted felon.
Three other teens are accused of hindering the apprehension of a criminal: Neqwaun O'Neal Roberson, 18, (top left photo); Demerius Taquon Hunter, 17 (top right), and Nikeyla Reeves, 17 (bottom left).