An Augusta man with a forearm tattoo that says "Murda Mind" has become the victim of a murder himself, authorities said.
The Coroner's Office says they are investigating the shooting death of 26-year-old Zachary Dunnum.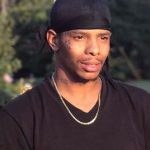 Dunnum (pictured) was shot at least one time on Roosevelt Drive at High Street at about 11 p.m. Wednesday. Dunnum was transported to Augusta University Medical Center where he died at 9 a.m. Thursday.
Ironically, a Facebook page for the victim includes a picture with him showing off his "Murda Mind" tattoo on his forearm several years ago.
Dunnum's body has been sent to the GBI Lab where an autopsy will be done Friday. He has a listed residence on the 2100 block of Vandivere Road
At lunchtime Thursday, the sheriff's office has not released any statement regarding the shooting or announced any arrest in the case.
Note: If you have a better photo of Zachary or a memory to share, please text it to The Jail Report at 803-487-3224.