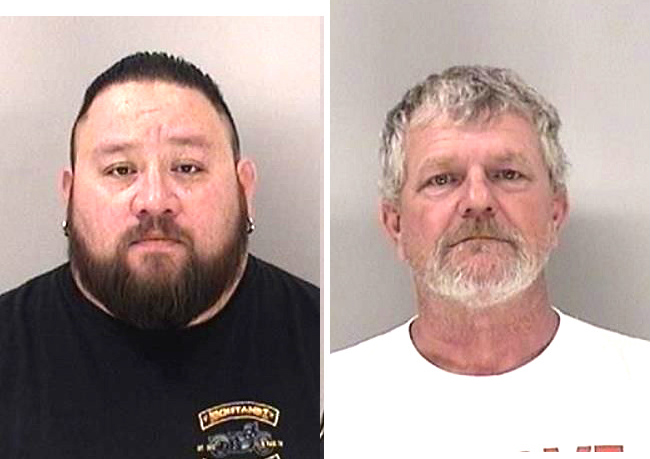 Members of the Steel Horsemen Motorcycle gang violently assaulted a biker outside an Augusta bar for hanging out on their turf and wearing the wrong patch, according to authorities.
Adrian Estrada, 43, of Augusta (top photo), and Frederick James "Boogie Man" King Jr., 5o, of Loganville, Ga.(bottom photo, white shirt), were each charged with aggravated battery and unlawful street gang activity in the Feb. 20 assault at the Silver Bullet Lounge on Milledgeville Road.
The bikers are accused of "seriously disfiguring" the face of biker Meisam Shodia by punching him. They also kicked him until he dropped to the ground, where Estrada allegedly kicked the victim in the face with motorcycle boots, according to warrants. Shodia suffered a fractured eye, two cracked teeth, a swollen eye and bruising to the forehead, nose and cheek.
And why did the bikers attack the man? Because he was wearing a Loners Motorcycle Club patch only.
According to a warrant, Estrada is the leader of the Steel Horsemen gang and had previously warned the victim that he could not wear his "Loners" motorcycle club patch without also wearing a "Support Your Local Horsemen patch".
"Gang members also advised the victim that he did not have permission to wear the vest he was wearing; and that he was on Steel Horsemen turf. The victim was also told that he would be 'f***ed up' and that he had taken the wrong route," the warrant says.
An incident reported filed by the Blythe Police Department says several members of the biker gang were involved in the assault. A witness said he overheard the bikers telling Shodia to "take that f***ing vest off." Also, the bikers jumped on the motorcycles and fled when deputies responded to a call.
Estrada and King were arrested on warrants on Thursday and remained in the Richmond County Jail on Friday.
According to warrants, the Steel Horsemen Motorcycle Club is classified as a street gang by the FBI.
Estrada owns The Loft on Broad Street in Augusta, according to a report by The Augusta Chronicle.