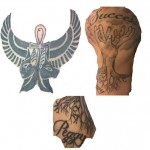 The release of photos showing tattoos on an Augusta murder victim helped the coroner  identify the man as a visitor from New York.
Brandon Mulgrave, 23, was found shot to death April 9 in a vacant lot on Holden Street in Augusta.
He was a resident of Hempstead, N.Y., and may have been visiting friends in Augusta, authorities said.
Someone alerted his mother in Hempstead about the tattoos that were released to the public last week (shown at right), and she called to identify them as her son's tattoos.
She had been on the cruise around the time he was killed, and she had no idea he had traveled to Augusta.
A Facebook page for Mulgrave shows a shirtless photo that include his distinctive tattoos.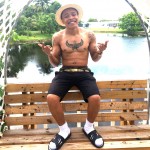 A motive is not clear in the case. No arrest has been announced.
Friends of the victim are already mourning him on his own Facebook page:
Bibi: " I have no words, it's been a minute but working with you was a delight! I'll never forget the friendly smile and the always positive outlook."
Princess: "R.i.P I can't even think of why someone would do you like that."
Graziella: "Mad love for you Brandon. I'm still so shook, man I can still hear ya laugh smh. You touched so many, you definitely moved me, and I hadn't seen you in years."
For more crime news, pick cup this week's edition of The Jail Report.