A Family Dollar manager was charged last week with swiping five deposits from the Hephzibah store, stuffing thousands down his pants and taking it home instead of the bank.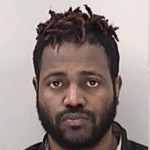 Terrell Donte Blackwell, 29, of Thomas Lane, Augusta, was charged Thursday with felony theft by taking and remained in the Richmond County Jail on Monday.
A sales specialist came into the Family Dollar store last May to investigate a cash deposit that was missing for $448. She soon discovered missing deposits for the four previous days, totaling $10,900, according to a sheriff's report.
The specialist called Wells Fargo and learned that the deposits had not been made into the Family Dollar account. Blackwell's name was on the deposit log sheet as the person who took possession of the money.
Oddly enough, it seems Blackwell knew he was caught when the sales specialist first told him she was going to the bank. When she returned to the Family Dollar store (2809 Tobacco Road, Hephzibah), Blackwell was gone. The next day, the manager's friends dropped off the store keys that Blackwell had been issued.
Store video shows the manager "counting the money and putting it in a plastic bag," according to a sheriff's report. "(Blackwell) puts what appears to be plastic deposit bags with money into another plastic bag, roll it up and then stuff it down the front of his pants and leave the store," the report says.
The store asked to prosecute and warrants were issued, leading to Blackwell's arrest last week.