A local thief received instant karma Saturday when he stole a car from an Augusta man and wrecked it nearby, leaving him in a wheelchair with painful injuries.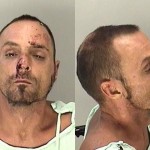 Brian Nicholson, 37, didn't relax long at the hospital before he was rolled to jail in a wheelchair Sunday and photographed with blood on his face.
The theft happened Saturday night at the Circle K at 3603 Peach Orchard Road. The victim said Nicholson walked up to him at the gas pump and asked him for a ride while he was talking to a friend. The victim denied the request, so the thief announced that he was taking the vehicle.
Nicholson then jumped in the 1998 Ford Explorer and drive away on Peach Orchard Road. The victim got in his friend's vehicle and they followed Nicholson until they lost him. But Nicholson soon wrecked it in a traffic accident on Molly Pond Road and Gordon Highway. He was taken to the hospital with injuries, and the victim's vehicle was totaled.
Authorities later booked Nicholson on charges of theft by taking, DUI, reckless driving, driving without a license, failure to maintain lane and no seat belt. That last charge may explain his injuries.
Nicholson remained in the Richmond County Detention Center on Thursday. A sheriffs report lists him as homeless.
For more crime news, pick up this week's edition of The Jail Report, sold in local gas stations for $1.50. This week's issue includes a coloring contest with prizes of $100 each for the four winners. Adults are included this time.