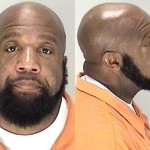 Richmond County authorities have arrested a man in Thursday's stabbing death of a woman at the Economy Inn in Augusta.
William Antonio Burum, 46, of Fairmont Street, Augusta, was arrested Friday in the death of Shakera Baxter.
A motive was not given by investigators.
"Investigators were able to link Burum to Mrs. Baxter's death," Lt. Blaise Dresser said in an email.
Burma was booked into the Richmond County Jail where he was charged with murder and possession of a knife during the commission of a crime.
Note: If you have a photo of Shakera Baxter to share, please text it to The Jail Report at 803-487-3224.