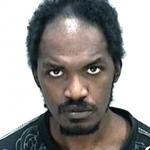 An Augusta man has been charged in a deadly double stabbing Friday night at Azalea Park Apartments that added yet another murder to the county's escalating homicide count.
Kareem Williams, 25, has been charged with murder, aggravated assault, kidnapping and weapon possession in the double stabbing that killed 33-year-old Timothy McBride and seriously injured a woman.
At 8:50 p.m. Friday, authorities answered a call to the apartments at 1814 Fayetteville Drive.
"Deputies located a black female inside an apartment with multiple stab wounds and cuts. She was transported to the hospital for treatment with injuries that do not appear to be life threatening," a press release said. "Further investigation led them to a second victim, a deceased black male with multiple stab wounds located in a ditch in the same apartment complex. Investigators were able to locate and arrest the suspect, Kareem Williams."
The murder is at least the fourth in week's time in Richmond County, including a murder allegedly committed by a former RCSO deputy and an elderly woman killed after her son allegedly let ants crawl all over her.
Note: If you have a better photo of victim Timothy McBride, please text it to The Jail Report at 803-487-3224.