An Augusta man was fatally shot outside a liquor store on Monday, marking the year's first homicide.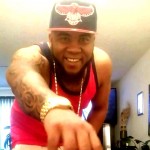 No arrests have been made in the slaying of 34-year-old James J. Sims III of Augusta (pictured). He was shot outside Kissingbower Package Shop about 5:21 p.m. Monday, according to Deputy Coroner Kenneth Boose.
"Sims was shot at least one time in the torso," Boose said in a press release.
Sheriff's Sgt. Monica Belser released this statement: "We are at the scene of a shooting with a fatal injury at 1773 Kissingbower Rd. The Kissingbower liquor store.   The case is very early on and what led to the shooting is under investigation.  But deputies received a call of shots fired and upon arrival they discovered a b/m victim laying outside of the building on the north side of the property.  It doesn't appear the business is directly involved at this point."
According to Facebook friends, the victim was known as "Mel."
Editor's Note: If you have a better photo of victim or memories to share, please email it to publisher@thejailreport.com or text it to 803-487-3224.