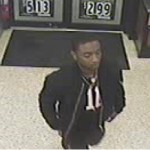 This guy is accused of using cloned credit cards at various stores in Columbia County to buy cartons of Newport cigarettes.
The suspect was observed on video surveillance at various Circle K locations, a Kroger location and a Sprint Foods location, according to authorities.
The suspect was also observed on video surveillance driving a dark, newer model Hyundai Sonata.
Know who he is? Please call the Columbia County Sheriff's Office at 706-541-2800.