UPDATE:
Lt. Richard Elim was fired from the sheriff's office on Friday, Oct. 26.
Original story:
A veteran sheriff's lieutenant in Richmond County was arrested Wednesday for theft, lying and violating his oath after a GBI investigation connected to the Georgia Lottery, according to a press release.
RCSO Narcotics Lt. Richard Elim, 53, was charged with violation of oath by public officer, false statements and writings, and theft by deception, all felonies. He has already bonded out from the Richmond County Jail, where jail administrators would not reveal the amount of the bond.
Authorities say Elim was responsible for inspecting lottery machines and was collecting money for the inspections. But lottery officials discovered he wasn't actually conducting all inspections and was claiming pay for machines that didn't exist anymore.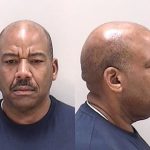 Here is how a spokesperson described the arrest:
"The Richmond County Sheriff's Office participates in a program through the Georgia Sheriff's Association to assist the Georgia Lottery with monitoring electronic gaming machines within Richmond County. A random check by a lottery Official revealed some discrepancies with some paperwork filed by a member of the Sheriff's Office assigned to conduct the inspections as it relates to compensation for conducting the inspections. 
"Based on the discrepancies, the GBI was requested to initiate an investigation as monies in question were being reimbursed by the State lottery though the Georgia Sheriff's Association. Based on their investigation, Arrest Warrants were issued on Narcotics Lieutenant Richard Elim. Elim was taken into custody at the Richmond County Sheriff's Office Headquarters and booked into the Charles B. Webster Detention Center."
"The Criminal investigation is still ongoing along with an Internal investigation by the Sheriff's Office Internal Affairs Division."
Elim has worked for the sheriff's office for more than 33 years, according to his LinkedIn page. He is currently on administrative leave pending an internal investigation by the sheriff's office.
He is the same officer involved in a bizarre wreck in 2015. In that case, then-Sgt. Elim was involved in an accident at 2:40 a.m. , but Sheriff Richard Roundtree said the wreck was not Elim's fault and the officer was driven home. The sheriff said alcohol was not a factor.
Elim's car struck a power pole and the power lines came down. A tractor trailer driving along Peach Orchard Road then pulled the power lines down, authorities said.
For more crime news, pick up the latest issue of The Jail Report.