Columbia County authorities have filed second-degree murder charges against the great-grandmother of a baby who was viciously mauled by a family pet on Tuesday morning.
Migdelia Guadalupe, 56, was "under the influence of drugs" when caring for 7-month-old Serenity Garnett and was "unable to render aide to her during a dog attack," according to a warrant (SHOWN HERE).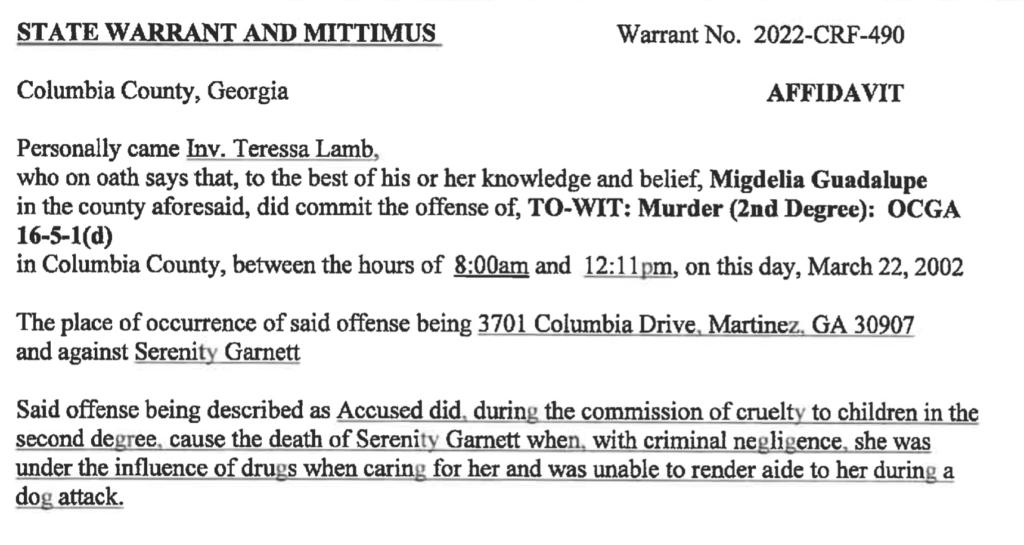 Investigators also found Guadalupe in possession of 0.5 grams of meth and about 1.0 grams of liquid meth, according to a warrant for meth possession.
Paramedics were called to 3701 Columbia Drive in Martinez around lunchtime Tuesday for an attack by the American Bulldog/Pyrenees mix. Guadalupe had been bitten on her arms and the baby was not breathing from several bites and puncture wounds, a sheriff's report says. Both went to Augusta University Medical Center, but the child died.
Guadalupe was released from the hospital Friday and arrested after the investigation revealed she was high at the time of the attack. She is being held without bond at the Columbia County Detention Center.  A warrant says the dog attack could have occurred as early as 8 a.m. Tuesday while the suspect was impaired by drugs, but authorities weren't called for hours.
Sheriff's Maj. Steve Morris said the child's grandmother had dropped the baby off at Guadalupe's rental home at 3701 Columbia Drive in Martinez. Guadalupe is the victim's great grandmother.
"The K9 belongs to Donna Mills, who splits ownership of the residence with her brother, Danny Mills," a sheriff's report says. "Ms. Mills is incarcerated at this time."
The baby's mother, 18-year-old Mercedie Rivera, arrived before paramedics left the home and followed them to the hospital. She is listed in a report as a student at Harlem High School.
A Facebook page for Donna Mills features multiple photos of the pet, which remains under quarantine and will likely be euthanized after the 10-day period is over. One photo from Donna Mills' page appears above.
Also, a GoFundMe page to raise funds for Serenity's funeral raised over $15,000 and no longer accepts donations.