A Martinez man knocked his Uber driver unconscious, broke his arm and stole his phone because he couldn't sit up front, authorities said.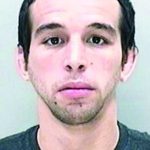 Nicholas Wesley, 28, was charged this month with aggravated assault in the Feb. 16 incident.
Driver James Snyder was trying to pick up the suspect at 2 in the morning on Saba Drive in Augusta. But it all went downhill when the 56-year-old driver told his cutomer that he couldn't sit in the front passenger seat.
What happened next? Pick up the current issue of The Jail Report for the full story.