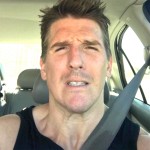 A Martinez man accused of calling his wife "fat" two days after she gave birth to their child has been arrested again!
This time, Joshua McCall was upset because his new wife wanted to divorce him! Go figure.
When Dawn McCall was threatened with her life and got a restraining order against her estranged hubby, the foul-mouthed fitness freak didn't take it well, authorities said. He was handed the restraining order Tuesday evening at Evans Fitness Express and was ordered to remove his belongings from their home.
But Mr. McCall told deputies that he was going to contact his wife regardless and would "take his chances" with the law, according to a sheriff's report.
"Mr. McCall was handed his copy of the order when he was leaving the residence," the deputy said in a report. "Mr. McCall threw the order out of his vehicle window and stated he didn't need it."
Within minutes of getting the order, Mr. McCall was texting the victim and tagging her on social media. So authorities got their hands on him and arrested him for aggravated stalking. He spent his third day in jail Thursday under no bond.
Mr. McCall is the same man arrested in 2014 for disorderly conduct involving a different wife. In that case, the arrest came after an ugly spat with his wife in which he called her "fat." The wife had just given birth to their daughter two days before that, but Mr. McCall didn't seem to care, according to a Columbia County sheriff's report.   In fact, when their dog pooped in the house, Mr. McCall told his wife to clean it up.
"The complainant said her husband told her to quit being lazy and burn some calories," a sheriff's report says. "The (wife) said she just gave birth to their daughter two days ago. The complainant said her husband told her he was going to leave her because she is fat."
The 2014 story was featured on augusatcrime.com and remains the most popular story ever posted on the crime website.