A registered sex offender was caught pleasuring himself in his car at an Evans intersection – in full view of a local mother and her 4-year-old daughter.
"What's that man doing?" the little girl asked.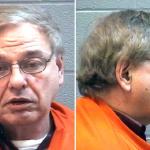 Donald Marvin Johnson, 67, later confessed to public indecency, adding to his long list of previous arrests for the sex crime in the area, authorities said. In 2016, he rear-ended a van while masturbating in his car.
Johnson was previously convicted of public indecency in 2008. In that case, a local nurse was stopped at a traffic light when she looked over and saw a man pleasuring himself in his car. She got his tag number, which led authorities to Johnson's residence on Springlakes Drive.
In Friday's incident, a 34-year-old woman told authorities that she stopped for the red light at the Intersection of North Belair Road and Hereford Farm Road. She looked over to her right and saw an older male in a white Nissan Cube masturbating. His genitalia was fully exposed and in sight since they were sitting "way up in the SUV," according to a witness. The victim told deputies that the driver seemed startled that she had caught him.
The woman later posted a photo of the man's car on her Facebook page with this message: "This WHITE man between the age of 50-60 with grey and black hair was masturbating in public near a daycare. When I saw him he fled the scene as fast as he could and I was only able to get a partial license plate with the letters XA3 in it. White Nissan Cube. If you see this man call him in!"
Authorities tracked down Johnson on Saturday to Springlakes Drive, where he provided a written statement admitting that he had exposed himself in front of the lady. He was charged with public indecency, a misdemeanor. He remained in jail Monday afternoon on a $1,100 bond.
For more crime news, pick up the latest edition of The Jail Report. Here is the cover.