A Martinez preschool teacher has been arrested after a 4-year-old pupil said she beat him with an American flag pole, authorities said.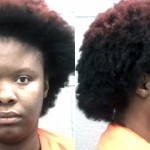 Shannon McCune, 27 (pictured), was charged Friday with two counts of cruelty to children – causing excessive physical or mental pain.  She remains in jail under a $35,200 bond.
The alleged incidents took place at the suspect's workplace, the Foundations Christian Preschool on South Belair Road in Martinez.
A boy's mother called authorities in October and said she picked up her son from the preschool and noticed he had bruise on his back. She also said his behavior had changed since he started going to Foundations Christian Preschool. The mother said she believed her son was being abused by someone.
A deputy noticed bruises on the boy's shoulder and hip and took pictures. An investigation led to charges Friday against the teacher, who lives in Augusta.
According to warrants, McCune is accused of child cruelty on two children: a 4 year old and a 5 year old. She allegedly grabbed a child's arms and hit him with a yard stick, and she allegedly hit the other child with a flag pole that carried the American flag.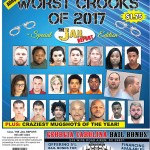 Don't miss this week's special edition of The Jail Report: Worst Crooks of 2017. It is sold in local stores for $1.75. It includes the worst criminal suspects from the CSRA from the last year.