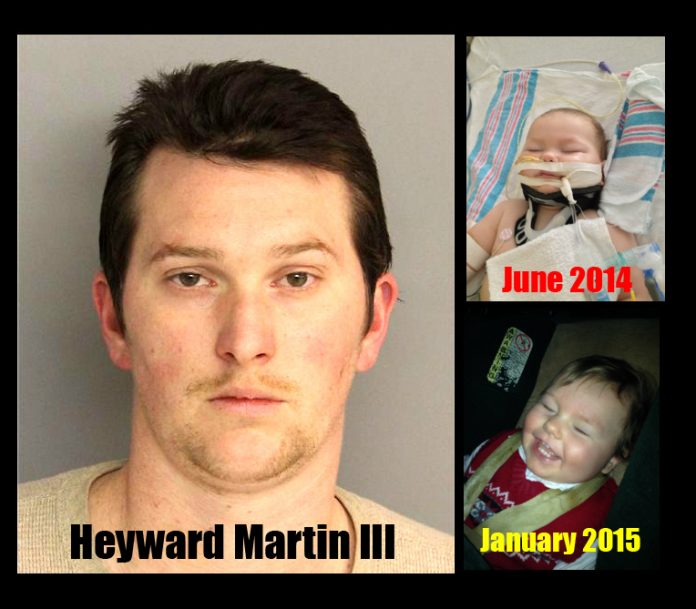 An Aiken County man has been charged with causing great injury to a child, and the child's mother says the suspect permanently blinded her infant son by shaking him.
Heyward Martin III, 32, of Jackson, was arrested Wednesday. He remains in jail under the felony charge.
Sheriff's Capt. Eric Abdullah could not immediately provide information on the arrest Thursday afternoon. But the child's mother, Melodi Tucker, called The Jail Report to publicly thank investigators and GRU hospital officials for their help after her son Donminick was the victim of Shaken Baby Syndrome on June 10.
A judge finally consented this week to the criminal charge against Martin after a lengthy investigation, she said.
Tucker says the suspect "shook, beat and suffocated" her infant son and submerged him in a sink full of ice water while watching him at an Aiken County home. Tucker says she lived with him, his wife and his step-daughter. She began taking classes in May and left the 5-month-old son with them while she was gone.
She said she returned home June 10 to find Donminick unresponsive. Martin handed her the child facedown and claimed he had suffered a seizure.
Tucker rushed the child to GRU Hospital, where he remained for three weeks. Donminick, known as "Day Day" to family, has since been in and out of the hospital for surgery, therapy and recovery. He is permanently blind.
"We were told that he was shook for at least 20 seconds, vigorously," Tucker said.
After seven months, he is doing much better, Tucker said. And she is thrilled the investigation finally led to criminal charges.
"I feel relieved," Tucker said. "I feel he can't hurt anyone else. I feel my son is finally getting justice."
Tucker said Martin is a life-long friend who she trusted. "Only God knows why he did it. I don't know what came over him to do something like that to a baby," she said, crying. "It really breaks my heart. But I am glad that he got arrested."