The mother of a missing man's son and a friend have been charged with killing him.
Blake Wolfe, 23, (top left photo) of the 100 block of Winter Road, Augusta, and her friend Devin Springfield, 23 (top right) of the 100 block of Scoggins Road, Edgefield, , have been connected to the disappearance and death of Andrew Cato.
"Wolfe and Stringfield are both charged with Murder for Cato's death and are being held at the Charles B. Webster Detention Center," a press release says. "Stringfield is also being charged with Possession of a Firearm during the Commission of a Crime."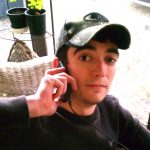 A search for Cato's remains is in progress in the swampy areas along Brickyard Pond. Cato is pictured at right.
An arrest warrant says Cato was shot two times with Springfield being accused of shooting the father of two in the chest with a 9mm handgun. Wolfe is also accused of causing the death of Cato with "malice aforethought," a warrant says.
For more crime news, pick up this week's edition of The Jail Report. The cover is pictured here.