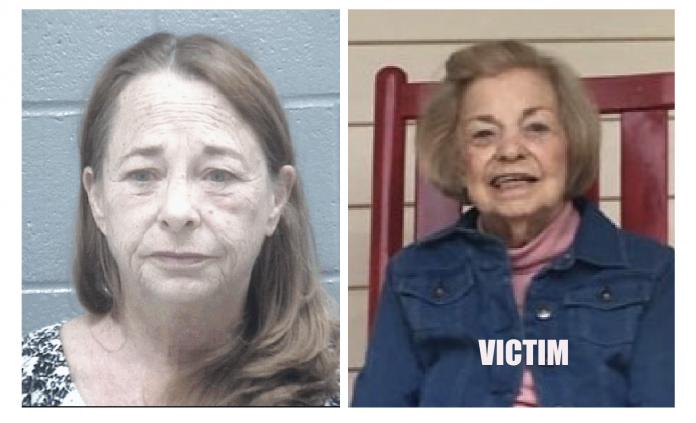 A Martinez woman is now facing a murder charge after a violent shove of her 85-year-old mother caused injuries that ultimately killed her last week, authorities said.
   Anita Jones, 65, was reportedly drinking outside July 25 when her mother Mary Ready heard her yelling and cursing. So the victim came out to shush her. Her mother was worried Anita was being too loud for their neighbors on Bahama Lane, a sheriff's report says.
   "Anita then got up and shoved (her mother) causing her to fall down on the patio and cut her forearm and leg," a report says.
   The next morning, the victim told her granddaughter, who called the cops. Deputies found bloody bed sheets and clothing, and the elderly woman had cuts to her left arm and left leg that were still bleeding.
   Jones was initially charged with battery under Georgia's Family Violence Act. But her mother died on Friday, sheriff's Maj. Steve Morris said.
"On July 30, Inv. Gaston was notified by Coroner Bonnie King that Mary had passed away due to injuries sustained in the altercation with Anita," Maj. Morris said. "Mary was transported to the GBI Crime Lab on July 31 and an autopsy was performed on August 1. The results of the autopsy show Mary's cause of death was blunt impact trauma as a result of being pushed to the ground and ruled a homicide."
Graveside services were held this morning. Mrs. Ready was a retired real estate agent and was a member of Evans First Baptist Church. She loved playing Words with Friends, watching her birds and watching Wheel of Fortune, according to an obituary.
Jones is being held at the jail under no bond.