An employee of Springwood Nursery in Evans was found dead from gunshot wounds early Wednesday when employees arrived for work, authorities said.
Jerry Wayne Whitten, 43, was discovered by co-workers around 6 am in the parking lot of Springwood Nursery located on Cox Road, near Evans High School.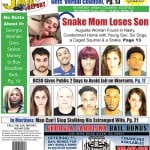 For more crime news, pick up this week's edition of The Jail Report, sold at local gas stations.
Whitten was pronounced dead at the scene and two gunshot wounds were discovered, one in the neck and one side torso.
No arrests have been made, and a motive is unclear, sheriff's Maj. Steve Morris said.
Whitten, of 222 Carol Drive, Hephzibah, is survived by a wife and children, according to Columbia County Deputy Coroner Harriett Garrison.
Springwood Nursery has a lot-sweeping service, where they clean up lots for different businesses, Garrison said. Whitten and another man work together on those jobs overnight, and they take turns locking up the office and putting the alarm on when they are done around 3 in the morning.
"This morning, it was Mr. Whitten's turn to lock up the business," Garrison said. "He went up to office to put alarm on and lock everything up."
At  6 a.m., the employees arrived and found Whitten's body outside the office with the door locked and the alarm activated. He had been shot, and he was pronounced dead on the scene.
Garrison said she notified his wife of the death.
Note: If you have a photo of Whitten or a memory you would like to share, please text it to 803-487-3224.