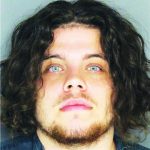 If you didn't know it before now, make a note: You can get arrested in South Carolina for a telling someone by text to "Go F*** Yourself."
It happened last week when family drama in North Augusta exploded into a short series of text messages between Dr. Edgar Holt and his 22-year-old stepson, Evan Hawkins.
During the texts, Hawkins sent his stepfather a photo from the movie Anchorman with the phrase "Go F*** Yourself" within a photo of Will Ferrell's character.
The stepfather, who works as a therapist, didn't appreciate the message and called police. He told North Augusta officers that he he had texted his stepson in reply to a comment he put on Facebook.
"If you regret, then be silent. Don't follow your brother's poor example and provoke conflict and hide behind mommy," Holt texted his stepson.
Hawkins later responded with the vulgar photo and caption.
Holt told cops he wanted to press charges for the message. So the officer prepared a warrant application against Hawkins for unlawful communication.
Hawkins was arrested Thursday on the charge.
In this case, unlawful communication was apparently violated since Hawkins communicated "words or language of a profane, vulgar, or lewd nature," or because he conveyed an "obscene, vulgar, indecent, profane, suggestive, or immoral message to another person," which is a violation under S.C. law.
In a phone interview Friday, Dr. Holt said he found the text abusive and called the police to document it. The texting came between a contentious divorce and family drama. Dr. Holt didn't know texting the f-word was a crime, but he feels like Evan needed to learn his lesson.
"Honestly, I'm tired of the abuse," he said.
This is one of many crime stories in this week's edition of The Jail Report. For more crime news, pick up this week's new copy of The Jail Report.