Augusta fireworks shooter Clinton Coleman was moved Friday from the hospital to jail, where he frowned for an updated mugshot that highlights the gunshot wound to his face.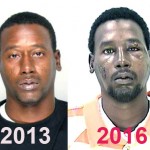 Clinton Lamont Coleman, 30, also appears to have eye injuries, which could have resulted from personal trainer Joshua Austin's heroic actions to tackle the man and prevent more victims.
Following the fireworks show Monday, Coleman and another man started arguing behind the Unisys building at Seventh Street. Both men then pulled guns and started shooting, causing a panic that led most people to flee the area or duck for cover.
During the gunfight, Coleman was shot in the leg and face. Austin, a personal trainer, saw the gunfight unfold and tackled Coleman, disarming him and holding him until deputies arrived, authorities said.
Bystander Brian Sikes of Grovetown pulled out a concealed weapon and shot at the second gunman, who then fled. The second gunman has not been identified and remains on the run. Sikes was not charged.
Also injured in the shooting: Robert and Mary Odom, a couple from North Augusta. According to a sheriff's report, "Hillary Odom received a wound to the right side of her face (a piece of a projectile was later recovered from her cheek). Robert Odom received a wound to the left side of his back and the back of his left thigh."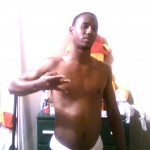 Coleman (pictured in 2010 from his Facebook page) survived the shooting and has been guarded all week at Augusta University Medical Center before he was transferred Friday. He is charged with aggravated assault,  weapon possession and theft by receiving from another state.
Coleman, who calls himself "Slumboi," has a criminal record that includes many domestic violence arrests. In April 2012, he was shot after an argument at Cedarwood Apartment Homes on Richmond Hill Road. Witnesses say an argument broke out, and then a gunman opened fire. Coleman, 26 at the time, was shot and taken to the hospital. There are reports he may have been bitter about the shooting and seeking revenge.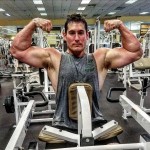 Joshua Austin Interview. On The Austin Rhodes Show this week on WGAC, the Augusta man who tackled Coleman recalled why he risked his own life.
The local personal trainer (pictured from Facebook) said he was with his little brother and girlfriend at the fireworks show when the gunfight broke out. Joshua Austin said he heard children screaming and didn't want to risk anyone else getting hurt. He told his girlfriend to lay down as he rushed toward the shooters.
"I knew I was the only one that was strong enough, per se, to sprint at this guy, and I had a clear line of sight and he turned away from me. So it was the only opportunity to take, so I took it and just charged at him and took him out. He had no idea," Joshua Austin said.
The shootings have caused some to say they will not return to downtown Augusta. Sheriff Richard Roundtree told local media that "evil happens everywhere" and that the actions of two idiots should not stop people from enjoying the downtown area.
"We have been doing this a long time. We are the second largest city in Georgia. We are going to have incidents," he said. "The only person seriously injured was the person who initiated the altercation."
As far as security, the sheriff said they will review their plan for next year's event and adjust accordingly.
"We may add more plain clothes officers to the event," he said.
The second shooter in the case remains unidentified. The Richmond County Sheriff's Office is asking anyone with information on his identity to call them at 706-821-1080.