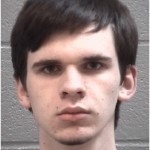 A Greenbrier High School student was arrested Wednesday for threatening to shoot up the school despite claims that his "Columbine" comments were a joke.
Jeremiah Robison, 17, of Evans, was charged with making terroristic threats & acts, a misdemeanor.
On Wednesday morning, a girl alerted school officials that she overheard her classmate threatening to "shoot up the school" while they were together in a Food for Life class. She said Robison has talked about school shootings before. He even looked up photos of guns, the girl said.
Another witness said Robison made the comments sarcastically during the third-period class. "Sometimes, he jokes about the wrong things," the second girl told officers.
When confronted, Robison confessed to kidding around. He quoted himself as saying, "I'm going to make Columbine look like a joke," and, "I'm going to shoot up the school."
He told authorities that he makes offensive jokes because it's funny. But Robison said he had no intention of hurting anyone. After he confessed to the statements, deputies arrested him.
Sheriff's Maj. Steve Morris said joking about a school shooting is a no-no.
"This is not the first time he's had discussions of this nature," Maj. Morris said. "Comments such as these, particularly in this day and time, cannot be overlooked and ignored."
HISTORY OF COLUMBINE. According to Wikipedia, Columbine High School was the site of one of the deadliest mass shootings in modern United States history, and the deadliest high school shooting in US history. The shootings occurred on April 20, 1999, when two senior students, Eric Harris and Dylan Klebold, killed 12 students and a teacher, and wounded 23 others, before they both committed suicide.
The massacre made headlines both nationally and internationally, making Columbine a household name, and causing a moral panic in American high schools
For more crime news, pick up this week's edition of The Jail Report, sold in local gas stations.