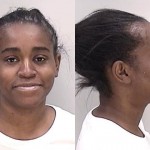 A young mother of five was arrested this week for raising her children in an Augusta home without electricity or running water.
Trash covered the entire house, which stunk badly and was covered with dirty dishes, rotting food and rat feces, authorities said.
When a neighbor called 911 on Monday to ask deputies to make a welfare check at 1145 Inez Street, a responding deputy found Katie Anderson's newborn baby sleeping in a car seat just inside the powerless home, according to a sheriff's report.
The 28-year-old mother and her four other children were standing outside the home. Anderson claimed she hadn't been living there and was staying with a cousin. The cousin soon denied that claim, however.
The deputy was shocked by what he found. Here's how he described the home in a report:
The residence did not have any electricity.
The deputy entered the home and was "immediately struck by a foul odor. The smell was extremely pungent."
Just inside the front door on the ground was Mrs. Anderson's baby girl, who was asleep in a car seat.
Inside the residence, piles of clothes littered each room of the house covering the floor.
Every surface inside the kitchen and living room was covered in dirty dishes and empty bottles and looked to have been there for some time.
There was rotting food inside the kitchen cabinets and on the counters.
There was trash covering the floor in each space inside the residence.
On top of the dryer, the deputy found rat feces and inside of the washer was moldy clothing and shoes.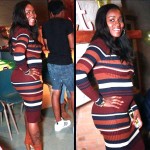 Anderson (pictured from Facebook) told the deputy that the power had been off for at least a week and she did not remember when the residence had running water.
Even worse, Anderson's oldest child, a 12-year-old girl, has not been enrolled in school this year.
The officer contacted the Department of Family and Children Services, who responded to the residence and took custody of the five children. The children were turned over to Mrs. Anderson's aunt.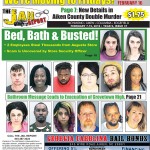 Anderson was then taken to jail on five counts of deprivation of a minor. She remained in jail on Wednesday.
For more crime news, pick up this week's edition of The Jail Report, sold in local gas stations for $1.75.