A 22-year-old Augusta man stalked, assaulted and robbed his ex-girlfriend who was 15 years old, committing the crimes in an alleged rage over being denied a relationship with the juvenile, according to a sheriff's report.
Christian Alonzo, of Princeton Lane, was charged last Wednesday with robbery by sudden snatching, simple battery and criminal damage to property. He was not criminally charged with stalking.
A sheriff's report spells out the ugly details of his alleged obsession, which increased after the teen's mom ended the relationship between them because of the age difference: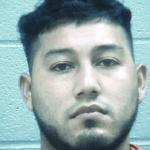 On July 4, the mother called authorities about Alonzo harassing and hitting her daughter, eight months after the relationship had ended. She said her daughter was hanging out with friends to celebrate Independence Day.
While hanging out, a few friends took Snapchat photos and posted them. They also went live on Facebook.
Alonzo apparently saw this and realized that his ex-girfriend was not home. He called the girl's mother numerous times from private numbers and demanded to know where the daughter was.
Sensing trouble, the mother drove over to pick up her daughter, but Alonzo had already made it there beforehand after hacking the girl's Snapchat account. The teen noticed Alonzo approach the house and "went into shock that he was there and feared he would harm her," the report says.
"Since the break-up, Alonzo has expressed an abusive and controlling obsession about (the girl) to her, her mother and her friends," the sheriff's report says.
At the party, Alonzo insisted she leave with him. When she refused, he grabbed her by the right arm but she got out of his grip. So he snatched her iPhone 11 from her, and ran off, hitting her in the shin as she tried to go after him. The suspect eventually gave her phone back, but it was completely destroyed.
After the girl was picked up, Alonzo continued to call the mother's phone, stalking the daughter's location. He even showed up at the teen's house and began to argue that he would have her daughter regardless of what the mother said.
The mother told authorities that she feared for their safety. She said she gets phone calls sometimes where she believes Alonzo is watching them because he can describe what is happening inside.
"Alonzo continues to make fake social media accounts and call from private numbers," the report says.
Warrants were later issued, leading to Alonzo's arrest last week. According to the jail website, he is currently free on bond.