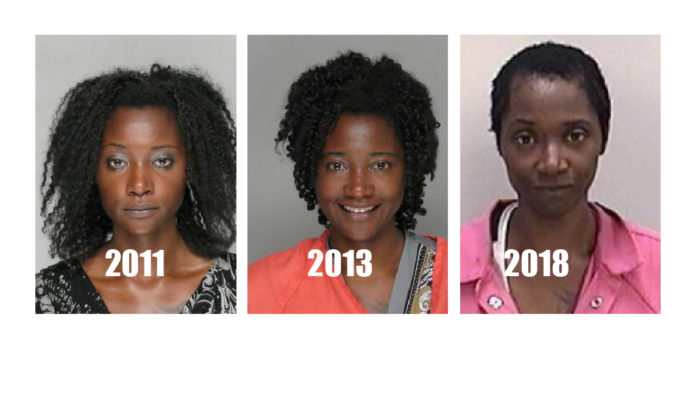 Meet Tinika Nattinger, the pedestrian accused of jumping into a vehicle at an Augusta wreck Thursday afternoon and leading cops on a wild chase.
She's had a rough few years, as her previous mugshots show.
On Thursday, she made life worse by allegedly getting into one of the vehicles that was involved in a wreck on the 1700 block of Walton Way and driving off. At the time, the drivers were waiting on the sheriff's office to arrive.
Here's what happened next, according to a sheriff's press release:
"The Sheriff's Office was notified and a BOLO was immediately broadcast. A deputy spotted the vehicle and attempted to stop her. The subject refused to pull over and a chase ensued. The chase continued down Walton Way and then through several streets including Lake Forest Drive and Bransford Road to Wrightsboro Road and eventually entered the westbound lanes of Bobby Jones Expressway. The Georgia State Patrol came to our assistance and the vehicle was eventually stopped using a PIT maneuver and the female suspect was taken into custody."
One deputy received minor lacerations to his hand while approaching the suspect vehicle to take the subject into custody.
Tinika L. Nattinger, 42, of Augusta, will be charged with felony motor vehicle theft and numerous traffic charges to include fleeing and eluding.