A man who works as a prison guard for the McCormick Correctional Institution remained in a Columbia County Jail on Tuesday morning after brutally beating his wife's former lover Sunday outside her Martinez home.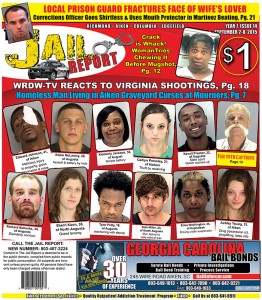 (For more crime news, pick up this week's Jail Report at local convenience stores.)
Devan Harrison, 24, of Lincolnton, found out the victim was knocking on the door of his estranged wife's Colonial Road home and rushed over to the residence.
According to a sheriff's report, Harrison took off his shirt and put in a MMA mouth protector. Harrison told deputies that he asked the man to leave, but the man smirked at him, so Harrison pushed him toward his car.
The suspect said he feared for his own safety, so he jumped on the victim's back before the man could gain his footing. Harrison said he placed a "blood choke" on the man, and they both fell to the ground.
Harrison said he felt the man was in a dominant position on him, so he punched the man three times in his right eye and once in the stomach. When the victim "jolted upright,"  Harrison punched him again.
When deputies talked to the victim at Doctors Hospital, the man had a different story. He said he went to the woman's home to talk to her. Harrison arrived and put him in a chokehold and punched him. The victim then left and drove to the hospital. The victim suffered fractures along his orbital bone, and his right eye was swollen shut, according to medical staff at Doctor's Hospital.
According to Harrison, his wife had a sexual relationship with the victim in the past. Harrison said he received a text from his wife that she would not talk to the man anymore. On Sunday, Harrison said he got a text from her saying her former lover was at her house.
In a statement listed in the sheriff's report, the wife did not confirm or deny that story.
Harrison was charged with aggravated battery. A sheriff's report says Harrison works at the state prison in McCormick, S.C.
"Appropriate action will be taken when we have all the facts and can make an informed decision," said Stephanie Givens, Communications Director for the S.C. Department of Corrections. "I do know that Officer Harrison reported the incident to his shift caption within a 24 hour period as is required by policy."