A Warrenville criminal with a violent past was charged over the weekend with kidnapping and raping a young woman, choking her to near unconsciousness after forcing his way into her home, authorities said.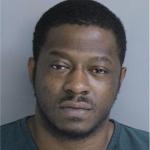 Clarkie Hall, 32, of Railroad Street, Warrenville, was charged Saturday with criminal sexual conduct in the first-degree and kidnapping.
   The 21-year-old woman ran into the suspect while walking on her street Friday and accepted his offer of a ride. But she got out of his car when Hall started telling her what he wanted to do so her sexually.
   Hall showed up at her house late Friday to apologize and tell her he couldn't stop thinking about her. He forced his way in her residence despite the victim's requests for him to leave, according to a sheriff's report.
   "He grabbed her by the neck and threw her on the floor," the sheriff's report says. "The subject started squeezing her throat so tight that she could not breath or scream."
  Hall then pushed her into the bedroom, assaulted her and forced her to perform oral sex on him, the report says. He later threatened her with a gun and made her get into his vehicle and lay down. At an unknown location, Hall allegedly forced her to engage in more sex while choking her.
   Finally, while pumping gas at the Circle K in Warrenville, the woman jumped out of the car, went inside and asked a clerk for help. When Hall realized she had escaped, he drove away.
   Oddly enough, deputies found Hall hiding in the bathroom at his girlfriend's home.
   Hall is a career criminal with a long list of arrests that include domestic violence, burglary, malicious injury to property and failure to pay child support. He spent only a few months in jail and got probation or dismissals in most cases.
For more crime news, pick up the current issue of The Jail Report, which includes an exclusive look at an embezzlement case at Regal Augusta movie theater.