An Augusta man remained in jail Sunday on child cruelty charges after his 2-month-old son showed up at the hospital with suspicious injuries, authorities said.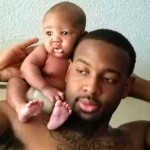 Johnny Lee Hairston Sr., 22, and fiancée Shynetra Bush brought in their baby Tuesday to Augusta University Medical Center for  "a rug burn to his face," according to a sheriff's report.
But doctors told sheriff's investigators that the injury didn't look like a rug burn and "more like the baby had ingested some food that was too hot," a sheriff's report says.
Hairston (pictured with his son from Facebook) told officers that he was home alone with his son last Tuesday afternoon on Cross Tree Court while the baby's mother was working. He said he wrapped his son up in a blanket and placed him on a couch. He gave him a bottle and briefly left the room. When he returned, he discovered that his son had rolled off the couch and was laying face first on their carpet, a report says.
The father said the carpet had a bleach stain on it and had been patched with a new section of carpet.
The child's mother told authorities that Hairston sent her pictures at work of their son's initial injury and it didn't seem as bad. Hairston took several more pictures hours later after the baby woke up. Bush said the couple then came to the hospital after Hairston picked her up from work.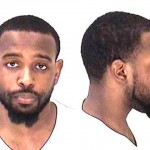 An investigation led to Hairston's arrest on Friday for cruelty to children in the first degree. Shynetra Bush, the child's mother, was not arrested.
Reached at home Sunday by The Jail Report, Bush said their baby has been released from the hospital and is fine.
"He's ok. It was an accident," Bush said. "He fell off the couch. Right now, he's moving, talking and smiling."
Asked about why she thinks her fiancé was arrested, she declined to talk further and hung up the phone.
Readers of The Jail Report may recognize the couple from a story two weeks ago in which they were taking the same child to a doctor's appointment and were attacked. That June 22nd story is below.
 5 Teens Attack Mother at Doctor's Office for 'Staring'
An Augusta woman and her fiancé were coming out of a doctor's office with their 2-month-old baby June 15 when five teens violently assaulted the young mother because of how she "was staring at them," authorities said.
The fiancé, identified as 22-year-old Johnny Hairston, tried to stop the assault at Padiatric Partners, but one of the teen's mother held him back, shouting "Let them fight" and "They're all grown-ups."
"You can't get into this because you're a man!" the woman reportedly told him as she ripped Hairston's shirt to hold him back.
The young mom suffered serious injuries that required a trip to the hospital for several knots to her head, cuts and abrasions. The baby was not harmed.
Hairston was so upset after the assault that he went to his vehicle and got a 9 mm because he wanted to "pistol whip the mother," a sheriff's report says. But an armed security guard stopped him from re-entering the building with the weapon. Hairston was charged with carrying a pistol without a valid permit.
Officers charged all five teenagers:
• Two 15 year olds and a 16 years old were charged as a juvenile with simple battery.
• Seairra Beasley, 17, and Chasity Green, 18, were charged as adults with simple battery.
• A warrant was issued for the teen's mom, Shondra Nicole Freeman, 36, but she was allowed to leave since she was 7 months pregnant and complaining of a medical problem, a report says.
A sheriff's report tells more of the story of what happened in the second-floor lobby of the doctors office at 1303 D'Antignac Street:
Hairston said they he and his fiancée were leaving the doctor's office in Suite 2600 of Pediatric Partners, where they had just taken their 2-month-old baby boy. The family was trying to exit, but the five teenagers were physically blocking the doorway.
Hairston said while exiting the office, the young females and his fiancée exchanged nasty words. The five girls all "jumped on" his fiancée, beating her repeatedly, taking her to the floor, and continually kicking and stomping her.
An employee of the Pediatric Partners said she heard one of the teen's mother (Freeman) talking rudely about the young mother and "the way she was staring at them." She said Freeman and the teenage girls started the argument with the victim.
A second employee told deputies that she watched as two of the teenagers attacked the victim and the remaining teenagers joined in the attack. The victim fell to the ground and the teens continued to kick and hit and stomp her. The employee then pushed the stroller with the two-month-old son away from that area.
"Two unidentified males exited the elevator and broke up the fight," a report says.