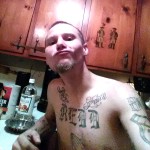 A North Augusta man was pretty banged up after leading authorities on a two-state chase Tuesday night that ended in a crash and the suspect trying to hide in a dumpster.
Craig Allen Redd, 24 (above and at right), appears to have suffered painful injuries in the crash, based on his mugshot.
North Augusta police chased a stolen vehicle into Augusta just before midnight Tuesday and that's when Richmond County deputies took over the pursuit on Milledge Road.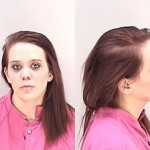 "After a brief pursuit the driver, later identified as Craig Allen Redd, crashed the vehicle at the intersection of Milledge Road and Pickens Road," a press release says. "The driver fled on foot. …  He was found hiding in a dumpster."
Redd – who has a tattoo on his back that says "C-DUMB" – was booked into the Richmond County Jail on charges of theft by receiving, fleeing and eluding police, obstruction, reckless driving, failure to maintain lane, driving on a suspended license, leaving the scene of an accident, DUI, no proof of insurance and a seatbelt violation.
A passenger in the car, Katie Leigh Hoots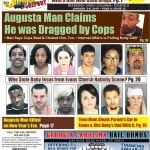 , was taken into custody for an outstanding warrant from Columbia County.
For more crime news, pick up this week's edition of The Jail Report, sold in local gas stations.