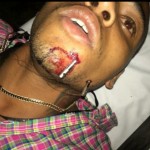 Richmond County deputies say they accidentally shot a local man twice in the face with a Taser outside a Broad Street bar last weekend, an incident the suspect is calling "police brutality."
Devaje Mathis, 23, of Aiken, posted a bloody image on his Facebook page of two Taser prongs sticking out of his face. He wrote this:
"I don't have no respect for how the cops treated me. It Was Police brutality. They shot me more then once with the taser and then pulled some out so nobody would know. They pushed there knee on the side of me and pulled out some. They treated me bad. They even disrespected me in the hospital. It was a mess. I have no trust for these people. They wanted to take me out but God didn't let them. I was aware the whole time. I even could feel how much he pressed on the taser. Fuc@$ the police."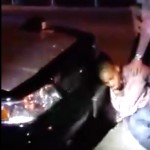 Witness Carrie Mitchell recorded two videos (click here and click here) after the Taser incident, showing Mathis lying on the ground near a patrol car as officers wait for an ambulance to arrive.
RCSO Chief Deputy Pat Clayton said the arresting deputy did not shoot Mathis in the face on purpose, saying it is against their policy to aim for the face.
"Deputy Ty Dailey was attempting to make an arrest on two suspects that were fighting (April 30) at the Playground Bar," Chief Clayton said in a statement to The Jail Report. "The suspect in question (shown on Facebook) was attempting to resist arrest.  During the struggle, Deputy Dailey had to shoot his Taser on two different occasions because the two prongs did not make a full contact. During the course of the struggle, the suspect was accidentally shot in the face."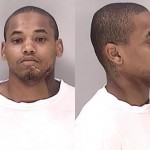 Chief Clayton said it is not policy to shoot suspects in the face with a Taser since it is a dangerous area due to the eyes and soft tissue.  But it does happen sometimes "due to the quickly evolving and highly volatile situation we find ourselves," he said.
RCSO policy is to remove Taser prongs only from the torso, legs and buttocks. Officers are not allowed to remove them from the face, head, neck, bones and scrotum. That is done at a medical facility, Chief Clayton said.
In this case, Mathis was taken to the emergency room at University Hospital to have the prongs removed. He remained there for several hours before he was transferred to the Richmond County Jail to be booked for obstruction of an officer. He has since been released on bond.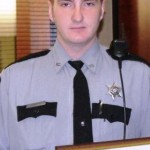 What the police report says.  According to a sheriff's report, Deputy Dailey (pictured) escorted two suspects out of The Playground bar at 1:48 a.m. April 30 for what appeared to be possession of marijuana. That's when Mathis approached the deputy and said he was the brother of one of the men.
"He was asked multiple times to step back, but he refused," Deputy Dailey said in his report.
An investigator asked Mathis to leave, and when Mathis refused to leave, Deputy Dailey told him he was under arrest for disorderly conduct. He took Mathis by the arm to take him into custody.
"(Mathis) snatched his arm away and shoved off of me once. I grabbed him a second time and was pulled forward," the officer's report says. "Inv. Perkins deployed his Taser and the subject fell to the ground. After a short period of time, he began pushing off of the ground to stand and kicking out as I approached him."
Deputy Dailey said he deployed his Taser once, but both cartridges fired. Mathis had multiple prongs in his left side and two struck him in the left side of his chin, the report says.
For his part, Mathis claims deputies laughed at him at the hospital while he was in pain. He warned his Facebook friends to be careful and praised God for saving him. He told friends to "stay prayed up."