A Richmond County deputy shot at an armed Hephzibah man outside a Sprint convenience store Saturday morning but didn't hit the man, authorities said.
No one was injured. The suspect's mother recently told cops her son served time in military combat and has mental health issues.
The deputy, whose name was not released, was approaching the Sprint gas station along Windsor Spring Road at about 9:30 a.m. Saturday when the officer heard shots coming from the store, according to a press release from sheriff's Sgt. Michael Shane McDaniel Sr.
"The deputy arrived at the Sprint station and happened upon a suspect firing gunshots with pedestrians in the area. The Deputy fired a shot at the suspect," Sgt. McDaniel said.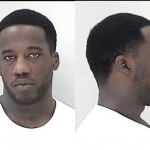 The suspect, identified as 25-year-old Jeremiah Griffin, then ran away from the store. Deputies searched the area and captured Griffin a short time later and arrested him for aggravated assault, aggravated assault on a law enforcement officer and weapon possession.
The press release provides no other details about why Griffin was shooting his gun at the store, whether the deputy was justified in their actions or whether there is an independent investigation into the shooting. In previous officer-involved shootings by RCSO deputies, the GBI has been asked to investigate.
WGAC's Austin Rhodes identified the deputy as Wes Stallings, pictured at right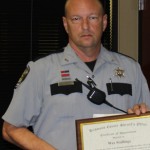 .
Griffin, of the 3900 Block of Crest Drive, was featured in The Jail Report after his June 20 arrest for criminal damage to property and a magistrate's warrant.
In that case, Griffin's mother said that her son busted the screen on her 52-inch TV and shattered the window of her vehicle with a brick, causing thousands in damage. She said her son was upset when she told him he couldn't have women stay overnight at her house on Crest Drive.
"The victim also stated the primary aggressor spent some time in the military conflict overseas and he has some mental health issues at this time," a sheriff's report said.
Stay tuned for more on the officer-involved shooting…