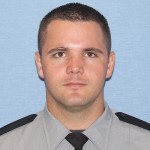 A Richmond County deputy was struck by a drunk driver Wednesday night while deploying stop sticks for an unrelated chase, authorities said.
Deputy Kyle Gould (pictured), a two-year veteran on the force, suffered a broken leg in the accident, which followed a bizarre set of events along Interstate 520 near the Georgia-South Carolina border.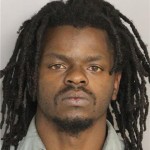 Deputies were chasing suspect Vernon Cratic III (pictured at right with dreadlocks) on I-520 East just before midnight Wednesday, authorities said. Deputy Gould, 28, and another officer set up stop sticks, but two other vehicles traveled over them while the suspect avoided it and continued into South Carolina.
Deputy Gould tried to pull the stop sticks out of the roadway and stepped backwards. That's when he was struck by a 1996 Cadillac Deville in the westbound lane. That driver, – identified as 61-year-old Albert Leroy Patrick (shown below) – was charged with DUI and driving while license suspended.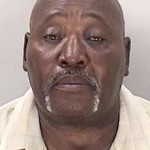 Meanwhile, the the man feeling the deputies – Cratic – eventually crashed into a tree in North Augusta and was taken into custody after a foot chase. He was booked into the Aiken County Jail and faces these charges: aggravated assault on a police officer, fleeing police, reckless driving, no license, failure to maintain lane, no seatbelt and improper tag transfer.
Original press release from RCSO:
"On May 11, 2016 at approximately 11:38 p.m., deputies were pursuing a vehicle driven by Vernon Cratic III east on I-520 that was fleeing toward the state line. Deputies Kyle Gould and Deputy Mitchell Black set up on the westbound side of I-520 around the Lovers Lane area with stop sticks.  The deputies parked their marked units in the Westbound left lane with the rear blue lights activated. As the pursuit was getting closer, Deputy Gould deployed the stop sticks into the left lane of the eastbound side. Two civilian vehicles traveled over the stop sticks causing damage to the tires and the suspect avoided the sticks, at which time Deputy Gould attempted to pull them out of the roadway. While pulling the stop sticks, Deputy Gould stepped backwards at which time he was struck by a white in color 1996 Cadillac Deville that was traveling Westbound in the right lane. Deputy Gould was transported to GRU and is being treated for a broken leg (right). The crash is under investigation at this time by GSP. The driver of the Cadillac (Patrick, Albert Leroy) was charged with DUI.
The pursuit came to an end in North Augusta after Cratic crashed into a tree and was taken into custody after a foot pursuit. He was turned over to North Augusta Department of Public Safety.
Cratic is being charged with the following;
Aggravated Assault (Police Officer)
Felony Fleeing/Attempting to Elude
Reckless Driving
No License
Failure to Maintain Lane
No Seatbelt
Improper Tag Transfer