A Richmond County deputy with a history of suspension has been disciplined again for hitting a handcuffed suspect and sending the man to the hospital, authorities said.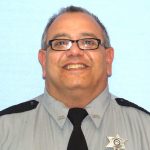 Cpl. Jo Martin had a hit & run suspect in handcuffs inside a vacant house April 1. The man was on the ground.
From the disciplinary report: "While the suspect was still laying on the floor, Cpl. Jo Martin struck the suspect on the right side of his head with an apparent closed fist and stated: 'that's for making me crawl through the window, pig.'"
The strike resulted in a cut to the suspect's head which required medical treatment and stitches at Augusta University Medical Center.
Chief Deputy Pat Clayton recommended the agency terminate the veteran officer. But Sheriff Richard Roundtree decided to keep Martin and only discipline him. Earlier this month, the sheriff demoted the corporal, suspended him for 10 days, placed him on 12 months of probation and moved him to road patrol. The disciplinary report was released Wednesday afternoon based on an open-records request from The Jail Report.
The disciplinary findings by internal affairs says that Martin's body-camera footage shows unnecessary force while Martin told a different story in his official use of force statement.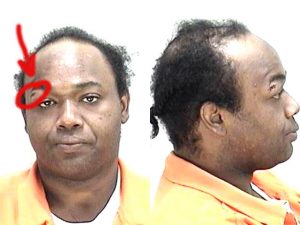 In his mugshot, Turner is shown with a cut above his right eye with stitches. He was arrested April 1 in the hit & run of a young girl the week before. He is charged with leaving the scene of an accident and misdemeanor obstruction of a law enforcement officer.
Authorities say Turner was driving the white SUV that struck a girl as she was crossing Ellis Street. She sustained injuries, including a broken arm.
Previous suspension. Deputy Martin has at least one previous suspension. According to 2011 media reports, he touched a female employee of Robbie's Sports Bar. She said it was on the buttocks, and he said it was on the hip. Her boyfriend later confronted Deputy Martin and a complaint was filed that night with the duty road supervisor. The complaint went before the Sheriff's Office Disciplinary Review Board and then-Sheriff Ronnie Strength suspended Deputy Martin for two days for the violation.