A Richmond County deputy with connections to the Roid-Gate scandal has been put on administrative leave following his overnight arrest in Columbia County for allegedly assaulting his wife.
(For more crime news, pick up this week's Jail Report. Cover: http://bit.ly/1jNZy68)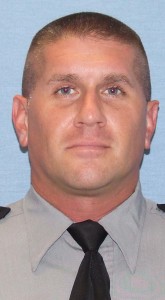 Deputy David Sward is accused of pushing his wife down and slamming a door on her hand Monday night after he returned to their Evans home. When his wife called 911, Sward took her phone and hung up, telling a dispatcher who called back that "everything was fine," a report says.
But everything wasn't fine. On Tuesday, Mrs. Sward came to University Prompt Care with bruises on her elbows, right wrist and left hand, a sheriff's report says.
Sward, 37, was arrested Tuesday night for simple battery – family violence and obstructing or hindering person making an emergency phone call.
Sward will be placed on administrative leave upon his release from jail pending the outcome of an internal investigation, according to RSCO Sheriff's Sgt. Michael Shane McDaniel Sr.
Sward has a questionable history in law enforcement. He was fired from the Columbia County Sheriff's Office in April 2014 after an incident with his girlfriend.
In that case,  his girlfriend accused him of trespassing at her home and then smacking a phone out of her hand when she tried to call for help. She later declined to press charges, but the sheriff's office terminated him.
Sheriff Clay Whittle fired him based on a charge of "conduct unbecoming an officer," which was based on the allegations by the girlfriend.
Just five weeks later, the Richmond County Sheriff's Office hired him. He has a salary of $34,000.
Sward was one of many officers named by suspected steroids dealer Brandon Paquette as an officer he sold drugs to. But Sward denied the allegations and was never charged.