The felon father of a 4-year-old Augusta boy who was fatally shot Saturday at Millbrook Pointe Apartments was arrested on a gun offense, according to Richmond County authorities.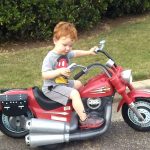 Justin Foss, 27, of Skinner Mill Road, was charged with possession of a weapon by a convicted felon after the death of his son, Justin Foss Jr. (pictured at right from 2016)
"The investigation and evidence has determined the child grabbed the firearm which was unsecured and accidentally shot himself," a Sunday press release said.
WRDW-TV is reporting that the child found the gun under a couch in the family's apartment. The news station quoted deputies as their source.
Authorities originally responded to 3190 Skinner Mill Road in reference to "what appears an accidental shooting involving a 4 year old," a press release says. The boy was pronounced dead at the hospital on Saturday morning.
Foss is a convicted felon who got probation in Greenville County, S.C., for stabbing a 16-year-old girl's stepfather in the shoulder and fleeing with the girl in 2012.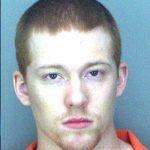 Foss was 20 at the time when he reportedly met the juvenile through Facebook. Foss (2012 mugshot at right) was accused of holding the girl's mother and stepfather against their will for nearly four hours, and the stepfather suffered a cut to his neck and stab wound to his shoulder during that time.
Foss and the 16-year-old girl were accused of tying up her mom, binding her hands and covering her mouth with painter's tape. The warrants said the two threatened the girl's mother with a gun, and demanded money and jewelry, according to news reports.
Police said the man left the home with the girl in a sport utility vehicle, heading to Georgia. He said that was when the parents called for help. Police then issued a statewide alert asking authorities to look for the pair, and Spartanburg County authorities captured them.
The girl was also charged. Foss was later given probation in the case, according to online records.
For more crime news, pick up the current edition of The Jail Report.