The Richmond County Sheriff's Office has called in the GBI to investigate after one of its narcotics officers and a suspect was shot Tuesday at Augusta Mart convenience store.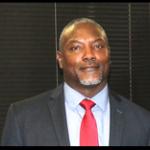 There are reports the officer was shot in the neck and face, but that cannot be confirmed. Sheriff's Sgt. William McCarty was choking back tears when he answered our call at 9:30 p.m. Tuesday, telling us that an officer had been shot and had been transferred to Augusta University Medical Center. He said he could not say whether the officer survived.
"We do have the GBI on the way," Sgt. McCarty said.
The Verdict Report identified the officer as Investigator Cecil Ridley (pictured), who was honored last year with five years of service. That name has not been confirmed.
A suspect, who has not been identified, was also shot and taken to the hospital. The nature of the confrontation leading to the shootings was not clear, Sgt. McCarty said.
Check back for more details.