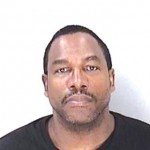 A Richmond County jailer was fired before Christmas for giving tobacco to an inmate at the detention center, according to a press release.
Deputy Jailer Gregory J. Mims was discovered delivering tobacco last week to an inmate at the Charles B. Webster Detention Center.
On Tuesday (Dec. 27), after an internal review, Mims was arrested and charged with one misdemeanor, Crossing a Guard Line with Contraband and one Felony; Violation of Oath of Office.
Mims is currently booked in the detention center and awaiting a bond hearing, a press release says.