Lt. Ramone Lamkin, head of the RCSO traffic division, announced his campaign for Richmond County Marshal.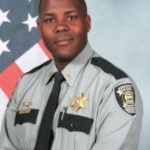 Lt. Lamkin, who has almost 20 years in law enforcement, currently serves as the head of the Traffic Safety Division of the Richmond County Sheriff's Office.  Prior to coming to work for the Sheriff's Office, he worked for the Georgia State Patrol as a Trooper and Assistant Post Commander.
Lt. Lamkin said he will formally announce his campaign at 10:30 a.m. Friday on the steps of the Augusta Judicial Center and John H. Ruffin, Jr. Courthouse.
"My pursuit of the Marshal's office is primarily due to my commitment to community and I look forward to serving the citizens of Richmond County to address the significant opportunities we have to make our community cleaner, safer, more secure and more desirable to live." Lamkin said.
"Becoming a more visible part of the neighborhoods we serve, increasing safety and security of our buildings and facilities, and improving the standards and image of the Marshal's Office are some of the opportunities I will look to pursue."
 The Richmond County Marshal is an elected law enforcement officer that is primarily responsible for the enforcement of local ordinances of a civil nature, enforcement of state and federal laws at the Augusta Regional Airport, the service of civil documents and orders from Magistrate Court, and the security of Richmond County owned public buildings and facilities including the Judicial Center, Municipal Building, and public libraries.
"Being accessible to the people of Richmond County is very important in a position such as this," Lamkin said.  "I will provide dedicated and experienced law enforcement leadership in my work with the public. I look forward to serving with integrity and I am committed to preserving the peace, protecting lives, and serving the public."
Lt. Lamkin is a graduate of T.W. Josey High School and he also attended the Professional Management Program at Columbus State Command College. Lamkin has led and coordinated a number of safety related initiatives including Operation Rolling Thunder, the HEAT Program, the 2015 Fall Safety Fair Initiative, and the Child Seat Technician Initiative.  He is a member and trustee at New Exodus Missionary Baptist Church and he is married to Charlette Lamkin and has three children, Hailey, A.J., and Brooke.
The current marshal is Steve Smith.