Why would Carlos Figueroa kill his sister's new husband?
Reports that victim Alan Newsome had domestic problems with his new wife and angered his brother-in-law continue to surface. Only one incident report was filed with the Richmond County Sheriff's Office, according to an Open Records request.
Two months ago, the sheriff's office got a call from someone around 3 a.m. in the morning that he believed that Deputy Nadia Newsome "may be in a domestic dispute with her husband." The caller's name is redacted in the sheriff's report.
Cpl. Reginald Ward and Sgt. Eard Trimmingham went to the newlyweds' home on Woodlake Road in Hephzibah to check.  The officers made contact with the off-duty deputy.
"She advised us that everything was OK between the two of them," the report says. "Newsome stated that it was only verbal and never became physical." (REPORT SHOWN HERE)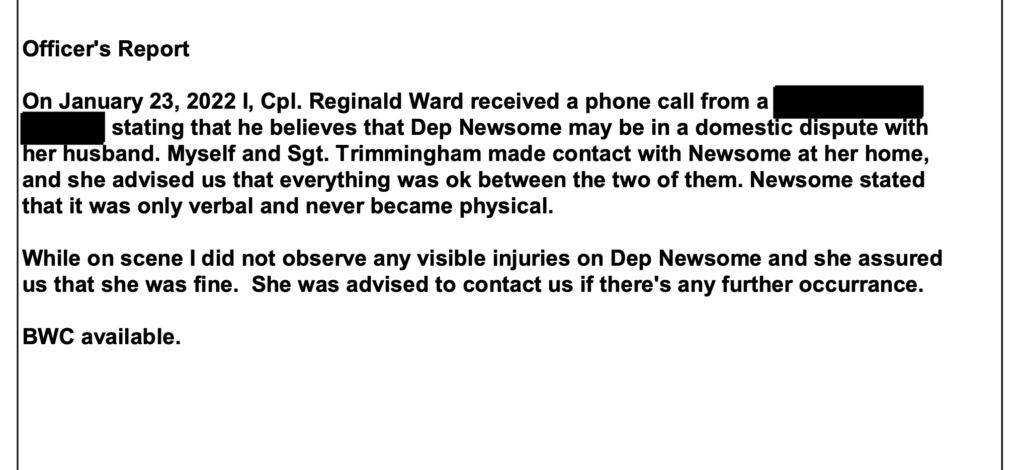 In his report on the Jan. 23 incident, Cpl. Ward noted that he did not observe any visible injuries on Deputy Newsome and "she assured us that she was fine." Newsome was told to contact them if there was any further occurrence. The couple married in September.
Meanwhile, Deputy Newsome's brother continues to be sought on murder charges in the killing of Alan Newsome at Rosetown Trailer Park on Ulm Road. Three other teens were also charged with murder for their allegedly involvement, including Brentin Coleman, 19, T'zaiah La'Tonia Dukes, 17, and Ortegas Dwayne Jones, 17.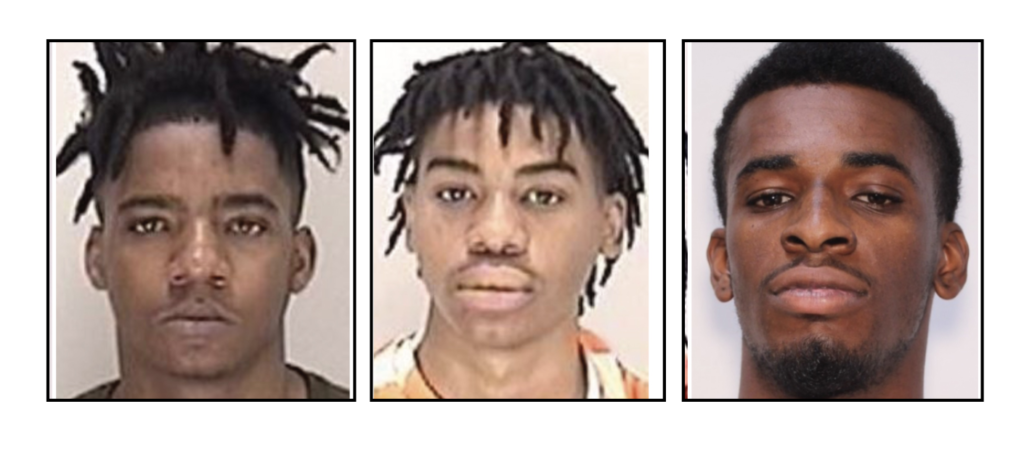 The 25-year-old Hephzibah father was found dead early Friday in a driveway on the 2900 block of Ulm Road, about six miles from where he lives on Woodlake Drive. Alan Newsome was pronounced dead at 1:51 a.m. March 18.
An arrest warrant says the suspects struck the victim in the head twice with an unknown blunt object and shot him in the head with a gun. According to 911 calls, the victim's wife was called by Figueroa to come over to Ulm Road because of the altercation. When she arrived, she found Newsome dead in the street.
Carlos Figueroa is a known gang leader indicted in the 2019 bust of the Rolling 60′s Criminal Street Gang in Augusta. Last May, the gang charges were dismissed against him because "there is no longer sufficient evidence to prove guilt beyond a reasonable doubt." Augusta District Attorney Jared Williams has declined to comment on the dismissal.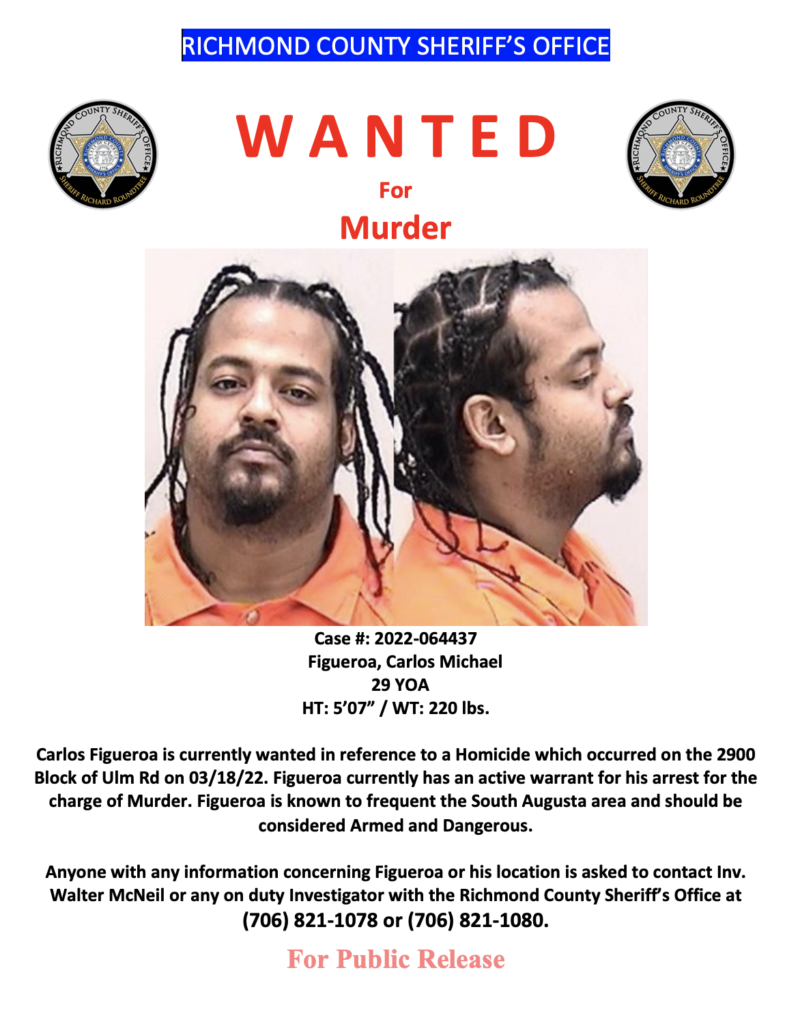 Figueroa, 29, is described as 5 feet 7 inches tall and weighing 220 pounds. He's known to frequent the south Augusta area and should be considered armed and dangerous.
Anyone with information about him is urged to contact Investigator Walter McNeil or any on-duty investigator with the Richmond County Sheriff's Office at 706-821-1078 or 706-821-1080.