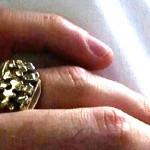 Richmond County authorities are hunting more suspects in the parking-lot murder of a Teleperformance supervisor and they think this ring may hold a clue.
Two arrests have been made in the Dec. 10 shooting death of 29-year-old Randy Ramos (pictured), but other suspects haven't been identified, authorities say.
"A gold nugget men's ring may have been stolen from Ramos during the incident," a press release says. "The missing ring may provide leads for investigators. The Richmond County Sheriff's Office as well as the family of the victim are asking the public to come forward with any information regarding this case. A cash reward is being offered for information that leads to an arrest or recovery of this evidence."
Anyone with information is asked to contact the Criminal Investigations Division, Violent Crimes Unit at 706-821-1020. Callers may remain anonymous.
Tarez Gordon, 18, and Marquise Yarbary, 24, have already been charged in the slaying.
   The victim was shot in the chest in the call center parking lot, which is near Augusta Mall. Authorities say two suspects likely fired the shots at Teleperformance with a third driving the getaway car.
For more crime stories, pick up this week's new issue of The Jail Report.