The man who killed five members of his wife's family Friday in Appling was found dead in his garage of a self-inflicted gunshot wound, authorities said.
Wayne Anthony Hawes, 50, was discovered just after midnight inside his garage at 3311 Rosemont Road, where the man had also tried and failed to set the house on fire, sheriff's Capt. Andy Shedd said.
Authorities say it appears Hawes was angry after his wife planned to divorce him. She survived his furious reaction, but her family did not.
Among those dead:
Roosevelt Burns, 75, of McCladdie Drive
Rheba Mae Dent, 85, of Johnson Drive
Kelia Clark, 31, of Johnson Drive
Lizzy Williams, 59, of Washington Road
Shelly Williams, 62, of Washington Road
Here is how the evening unfolded:
At 7:54 pm Friday, the sheriff's office responded to 3162 Johnson Drive in reference to a shooting. That is where Burns, Dent and Clark had been shot and killed.
As officers were investigating the Johnson Drive crime scene, they received a call at 8:32 p.m. Friday to another shooting at 5581 Washington Road in Appling, where the two Williams victims were found dead. Both died as a result of gunshot wounds.
"We believe the two shootings were related based on witness accounts," Capt. Shedd said.
Officers conducted surveillance on the suspect's home early in the investigation. Shortly after midnight Saturday, they decided to enter the home.
"We found the suspect deceased due to a self-inflicted gunshot wound to the head. Also inside was evidence that the suspect attempted to set fire to the house unsuccessfully," Capt. Shedd said. "We believe some of the victims were related to the suspect's wife."
According to criminal records for Columbia County, Hawes has a long record from 1989-2002 with arrests for aggravated assault, sale of cocaine, simple battery, shoplifting, obstruction, DUI, fleeing from police, reckless driving, and driving without a license.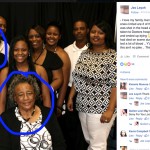 Members of the victim's extended family were already mourning the death on Facebook and posting photos of those who were killed.
The Appling deaths are reported to be the largest mass killing in the county's history.
If you have photos of the victims or memories you would like to share, please text them to 803-487-3224 or email them to [email protected]