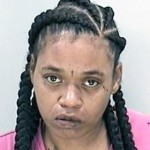 A customer who was being bounced at "Club Rendezvous at 3" was arrested after throwing a drink on the special-duty deputy who was kicking her out, authorities said.
Shakeela McNair, 30 (pictured at right), of Vandivere Road, Augusta, was charged early Saturday with simple battery against a police officer.
Cpl. James Ouzts (pictured at right, in uniform) was working special duty at the Gordon Highway business at 1:55 a.m. Saturday when he saw McNair and another woman involved in an argument.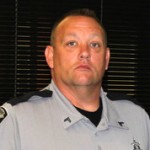 He told them to stop fighting and leave the club. He even escorted McNair 10 feet away from the woman. The deputy heard the arguing continuing, so he approached the other woman.
"At that time, McNair threw a full cup of ice and an unknown type of alcohol drink," the officer wrote in his report. "The cup, ice and liquid struck me on the left side of my head and face, drenching me in the liquid."
Cpl. Ouzts reacted by taking McNair into custody, handcuffing her and taking her to jail for simple battery on a police officer.
For more crime news, pick up the current issue of The Jail Report at local gas stations.