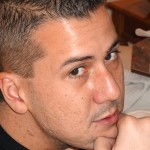 The "suspicious" death of an Augusta man this week followed a two-week drinking binge at the Greene Street apartment he shared with his ex-girlfriend, a sheriff's report says.
Christopher Welch, 31 (top picture), was found dead Wednesday morning by his ex-girlfriend inside their apartment at 312 Greene Street, authorities said. Coroner Mark Bowen called the death "suspicious" and said final autopsy results will take "weeks."
But a sheriff's report suggests alcohol could likely play a role in Welch's death. Details from the sheriff's report spell out a timeline given to officers by his ex-girlfriend, Regina Nabriat, as well as a neighbor. The details include:
Welch and Nabriat (pictured here) had lived together for two years at the apartment. They broke up in February but continued to live together.
At 9:30 p.m. Tuesday, Nabriat took the victim to the liquor store to buy some vodka. He got a 750 ml bottle of vodka.
Welch had been drinking all day and for about two weeks straight since he quit his job at Circle K on Reynolds Street. He also had not eaten anything for two weeks.
At 11 p.m. Tuesday, Nabriat went to bed. She heard Welch try to walk to the bathroom 6-7 times between 11 p.m.-2 a.m. "She said he fell down every single time he tried to go," a report says.
Around 2 a.m., Welch fell down again while trying to go to the bathroom and the noise woke his ex-girlfriend up. She went back to sleep and slept through the night and woke up at 8 a.m. but didn't speak to Welch.
At 9:20 a.m., Nabriat found Welch face down, tried to speak with him and then touched his arm. "It was cold," she told investigators.
A neighbor told investigators that she constantly heard fighting in the victim's apartment. On Tuesday night, she heard a "loud scream" at 11 p.m. that woke her up from a dead sleep. She checked her children and concluded that the scream came from the victim's apartment.
After Nabriat discovered Welch dead, the coroner's office sent a deputy coroner, who called the death "suspicious." But a sheriff's investigator said the death would be labeled "accidental" pending an autopsy as well as toxicology report.