After first refusing to release an incident report on a deputy's domestic violence arrest, the Richmond County Sheriff's Office has now revealed that Deputy Anthony Bottom was accused of head-butting his ex-wife on Tuesday.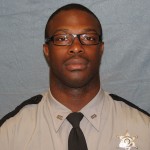 The deputy was arrested for simple battery and trespassing in the incident at his ex-wife's home on Georgetown Drive in Augusta. He was also placed on administrative leave.
According to the sheriff's report, Bottom insisted on going to the victim's home at 3 p.m. Tuesday to check on his children even though his wife texted him not to come while the children were there. Bottom rang her doorbell and began yelling when she answered the door. She told him to leave and he didn't.
"She opened the door and unlocked the screen, again telling him to leave and come back another day," a sheriff's report says. "He then pushed himself into the residence and got face to face with her. She stated she again told him to leave. The victim stated at this time, Mr. Bottom head-butted her in the left eye."
The victim told Bottoms that he had head-butted her. He replied, "I didn't put my hands on you." And he then walked back to his truck. Both Bottom and his ex-wife called the sheriff's office.
Responding deputies found the victim with redness in the whites of her left eye with swelling to the upper eyelid. Bottom said his ex-wife had not allowed him to see his three children in several weeks and he was checking to see if they were OK. Deputies arrested Bottom and took him to jail.
The details come from a sheriff's report that was released Thursday. The RCSO Public Information Office initially declined to provide the report to local media. A spokeswoman said domestic violence reports were not releasable until after it had been resolved in court.
But press attorney David Hudson said the Georgia Open Record laws provides for release of reports after an arrest has been made. The Jail Report has written dozens of stories about domestic violence arrests with the help of incident reports that were released by the sheriff's office.
After being challenged on the law, the sheriff's office emailed the report on Thursday.
"We are not sure why the report wasn't released in a more timely fashion but are thankful the sheriff's office did provide it today," Jail Report Publisher Greg Rickabaugh said Thursday. "The PIO department has been very helpful and professional with the release of information in most every other circumstance."