An Augusta man with an outstanding warrant for attacking his ex-girlfriend was never served the warrant before he allegedly broke into her house and again assaulted her, this time raping her while recording it on his cell phone, according to a sheriff's report.
(This is one of several stories in this week's Jail Report, sold in stores. Cover: http://bit.ly/1MtCYrS)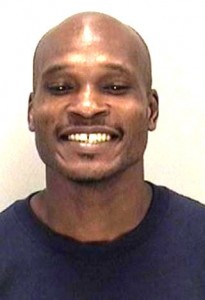 Christopher Rogers Davis, 46, has been charged only with simple battery as authorities investigate the rape accusations. He is being held without bond.
The victim told authorities that she and Davis agreed to separate in June and Davis asked to take a picture of her June 20 to "remember her." When she said no, he allegedly punched her and then pointed a gun at her and pulled the trigger. It didn't fire and Davis apologized. He stayed at her home and she called police June 21 when he left.
Last Friday – three weeks later – the warrant had not been served. That's when the victim says Davis got into her home with an old key and attacked her in an apparent jealous rage about her new "boo." After she refused to pull up her Facebook page for him to see, he ripped off her shirt, slapped her, choked her and held a knife to her neck, a sheriff's report says.
The victim said Davis grabbed a pair of scissors and "threatened to cut her lips off." The woman said Davis performed oral sex on her and later raped her while recording it on his cell phone.
Davis then intersected her to shower while he wiped the home clean and even put the bed sheets in the washer. When he finally left, she used a tablet to Facebook message a friend to help her. The friend took her to Doctors Hospital, where a rape kit was done and investigators interviewed her.
According to a report, officers met the woman and observed her injuries: "Blackened right eye, small cut on the inside of the left nostril, small cut to the inside the bottom lip, swelling to both sides of the face, abrasions and cuts to both sides of the neck, severe bruising and abrasions on the left side of the body in the rib cage area, a large bruise on center left of the stomach, small scratches and bruises to both arms and shoulders, large bruise on the heel of the right hand, abrasions and bruising to both legs, large and severe bruising to the lower back and buttocks."
Davis was arrested Saturday on Peach Orchard Road for the previous simple battery case, according to sheriff's Sgt. Glen Rahn.
"Violent Crimes is currently investigating the second incident that occurred on July 10th, 2015. In both crimes, it was the same victim," the sergeant said.