A four-year veteran of the Richmond County Sheriff's Office was arrested Tuesday for simple battery and criminal trespassing under the domestic violence statutes.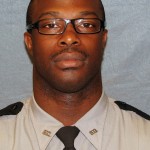 Deputy Anthony Bottom from the Road Patrol Division was charged in connection with an incident on Georgetown Drive in Augusta.
At 3:08 p.m. Tuesday, Richmond County deputies responded to the 2500 block of Georgetown Drive for a domestic violence call. After an investigation, Deputy Bottom was arrested.
Deputy Bottom has been employed with the Richmond County Sheriff's Office since September 2011 and is currently assigned to the Road Patrol Division.
According to Sgt. Monica Belser, the deputy has been placed on administrative leave until further notice.
No other details of the crime were released Tuesday night.